Finally, Nail Dipping powder in Dubai
The nail industry is always developing new trends and technologies to satisfy our needs "we Girls" 🥰
From normal nail polish to Gel polish crossing the nail polygel to acrylic powder and more, Now they invented the dipping powder nail system, What a lovely nail system.
So, what's Dipping powder?
It's nail system technique of dipping the nails after a manicure into a jar full of powder with different colors then applying the normal base and topcoats gibing an amazing Chip free finishes which will last you for a month, how simple and lovely is that.
Dipping powder is commonly referred as SNS nails and it comes in many colors, you can do Ombre, French and apply many nails art designs with it.
Many brands are producing Dipping powder systems such as Revel, Kismet Nail Dip, Iris nail dip, SNS and Kiara Sky.
Dipping Powder VS. other Nail System 
1-Dipping powder gives the same Acrylic and hard gel finishing
2-No usage of UV light machine which might harm nails and skin
3-Less time to apply and easier comparing to acrylic and gel nail enhancements
4- Lasts up to 1 month.
5- Healthier and stronger nails
We always recommend using Nail strengtheners with all nail systems to maintain your nails and keep your cuticle moisturized.
Here are some pictures for Dipping powder nails: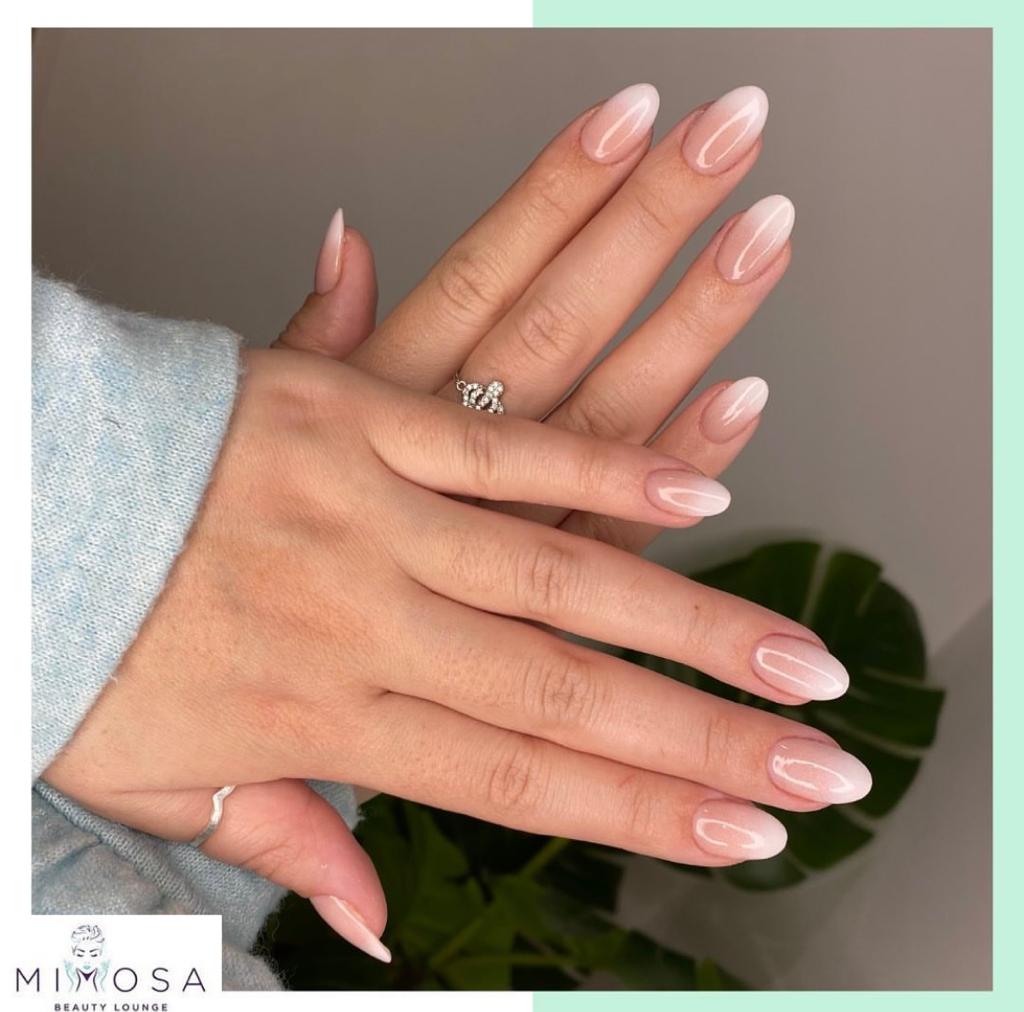 Nail dipping powder in Dubai?
If you live in Dubai or you are visiting from abroad and looking to have Dipping powder in Dubai then Mimosa beauty lounge is your best place to have your service done.
We introduced the nail dipping powder system in 2018 and we have the right nail artists who professionally can serve you with the nail dipping powder technique.
You can check this video to know more about the application process: https://www.instagram.com/reel/CjLKWvAh48T/?igshid=YmMyMTA2M2Y=
You can shop our latest nail treatment: https://shop.mimosabeautylounge.com
Every month we introduce new packages and offer check it out: https://mimosabeautylounge.com/monthly-promotions-on-beauty-services/
To book your nail dipping powder appointment please contact us:
Call & Whatsapp: 0589584077
We are located in 2 branches in Dubai:
Branch1: Damac Smart Heights, Barsha Heights Tecom, Dubai, UAE
Branch2: Cayan Business Tower, Barsha Heights Tecom, Dubai, UAE